PRESS RELEASE FROM SIDEL
Sidel reveals new Cermex ProSelex® case packing infeed module for shaped containers
At Interpack, Sidel will unveil the new generation of its Cermex ProSelex® flexible collating system for complex unstable bottles. This gentle, streamlined, grouping device is designed to associate with any type of case packer and will deliver extreme efficiency, high availability, and greater operability.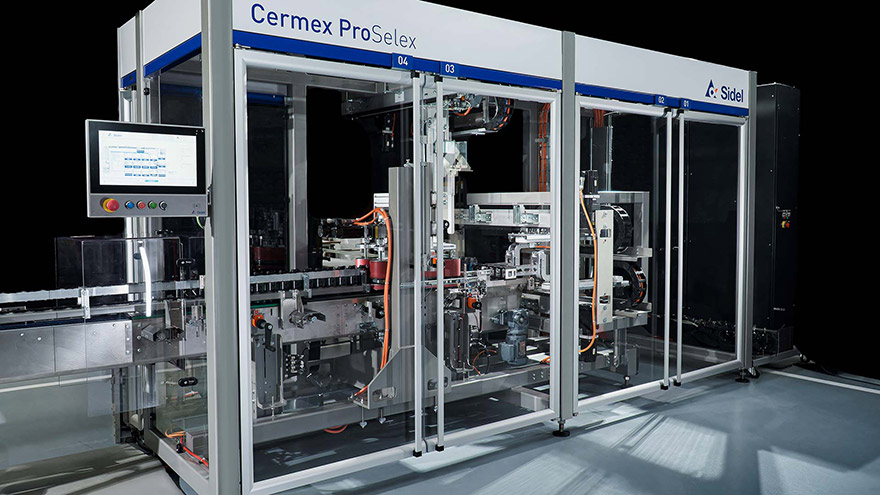 Acting as an integrated module of a case packer that is receiving products upstream from one lane, the latest Cermex ProSelex® continuously pitches, collates and prepares the container batches before they are transferred and case packed. Based on a simplified and streamlined kinematic process, this new generation improves on the performance of the previous module with an increased speed capability of up to 300 products per minute, in addition to a more compact footprint. Productivity is also delivered by additional timesaving, achieved through a reduction in changeover time, courtesy of a simplified and repeatable process for operators, which anticipates an average changeover to last between 1 minute for a new collation  to 2 minutes 30 seconds for a complete bottle change. Due to a small number of change parts required, the module also delivers significant cost efficiency and overall time-to-market optimisation for any new format needed in the future. 
Perfectly adapted to cater to the secured handling of complex unstable shaped bottles and asymmetric containers from the food, home and personal care industries, Cermex ProSelex® keeps container stability throughout the whole collating process, avoiding fallen bottles at any step. Designed with protection as a priority, Cermex ProSelex® continues to ensure no loss of integrity to the final product. Friction is reduced courtesy of the module's collation concept, which limits the number of contact points between the collating combs and products. 
Didier Saussereau, Portfolio Director for Packing Product Line at Sidel, summarises: "In addition to SKU proliferation, differentiation through innovative container shapes is particularly necessary for customers from the food, home and personal care sectors. Their innovative products convey their brand identity and therefore need to remain in perfect condition, yet these creative shapes also lead to complexity when conveying and handling them. The new generation of Cermex ProSelex® builds on Sidel's reputation of ensuring product integrity at every stage of the process. Shocks and scratches to packaging are prevented with exclusively servo-driven gentle handling operations, while product jamming or shingling is avoided thanks to a continuous flow motion with minimum accumulation. The Cermex ProSelex® system addresses product care and efficiency without compromises and can really challenge traditional grouping solutions, such as screw or channel infeed." 
Cermex ProSelex® will be exhibited as a worldwide premiere at Interpack, the international packaging fair, in Düsseldorf from 4th to 10th May 2023. Visitors to Sidel's stand in Hall 13, Booth B47 will be able to experience a live demonstration of the system featuring the shaped PET bottles of a top international customer from the personal care industry.
Read press release Sidel reveals new Cermex ProSelex® case packing infeed module for shaped containers on www.sidel.com