Over 6 million children benefit from school milk programme in Mexico
The school milk programme in Mexico is one of the longest running programmes of its kind in the world and has made a significant contribution to addressing challenges like malnutrition, education and food insecurity. Today, more than six million children benefit from school feeding in Mexico. Studies from the National Institute of Public Health have highlighted the positive impact of fortified milk consumed by children. During a 12-month period, benefits included a reduction in the presence of anaemia by 21.6 per cent, while iron deficiency decreased by 3.2 per cent.
As early as 1929, the school milk programme, "Drop of Milk Programme", was founded not only to tackle child malnutrition, school attendance and food insecurity, but to also benefit local farmers and incentivise production. This link with local agriculture is important as more than 13 per cent of Mexico's work force is employed in agriculture.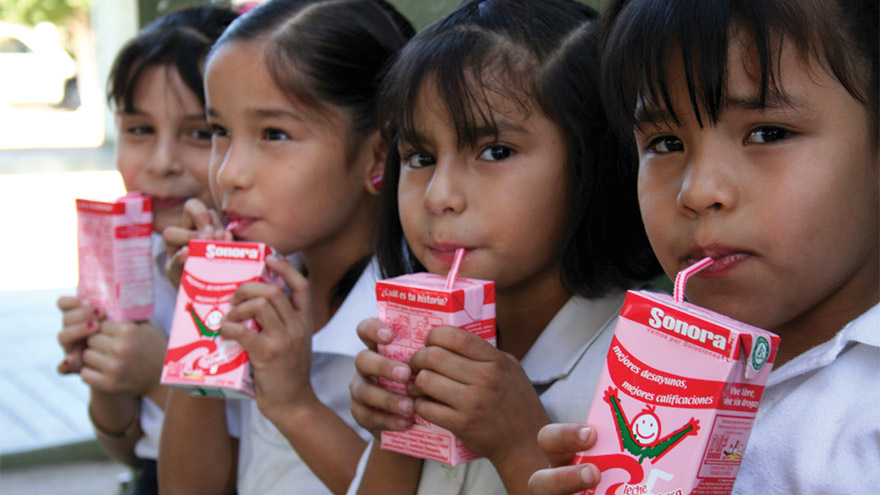 School girls drinking milk in Tetra Brik Aseptic carton packages
Tetra Classic® Aseptic – a practical solution to logistical challenges
Over the years, the implementation of legislation like the Child Protection Law and the National General Health Law have been essential in prioritising child nutrition and school feeding. As the programme grew in coverage through­out the country, the safe distribution of milk was challenged by various logistical and infra­structure factors, especially in remote areas where a viable cold chain did not exist. As a practical solution to overcome these distri­bution and food safety challenges, Tetra Classic® Aseptic 250 ml packages were introduced in 1962, marking the first school milk programme where Tetra Pak packages were used.
In 1977, the government created the National System for Integral Family Development (DIF). As one of its responsibilities, DIF manages the school feeding programme. According to DIF school feeding programme regulations, a serving of 250 ml of milk is mandated as a component of the breakfast programme for school children. In addition to the aseptic packages, Tetra Pak has also provided practical support.
Practical support to partners
"Through the programme, we've been able to offer our partners practical support in sharing global best practice in food safety and quality. We also share best practice in environmental education and recycling in schools as well as promoting nutritional awareness," says Robert Graves, Managing Director, Tetra Pak Mexico.
Tetra Pak has been actively involved in supporting manufacturers that produce UHT (ultra-high temperature) milk for the programme and currently there are 14 Tetra Pak customers delivering milk and nutritious beverages to children in schools nationwide.
"Mexico is a flagship example of how demonstrating the importance of impact data, links with local agriculture and economic development, community engagement and policy implementation can play a vital role in the long-term sustainability of a school feeding programme," explains Rafael Fabrega, Director, Tetra Laval Food for Development.