DELAVAL PRESS RELEASE
DeLaval launches three innovative teat disinfectants
September 2023 ─ DeLaval launches three new glycolic acid-based teat disinfectants to the European market, OceanBlu™ spray, OceanBlu™ pro and OceanBlu™ barrier.
DeLaval is expanding its udder health assortment with three new innovative teat disinfectants, based on glycolic acid, called OceanBlu™.
Udder health is vital to dairy farmers as it affects the performance of the herd and profitability of the farm. A good udder preparation and milking routine, combined with post-milking teat disinfection, has a proven impact on reducing mastitis. DeLaval is committed to supplying innovative and reliable products that help control the spread of mastitis-causing pathogens whilst maintaining health and productivity. A teat in good condition is the first barrier against mastitis pathogens.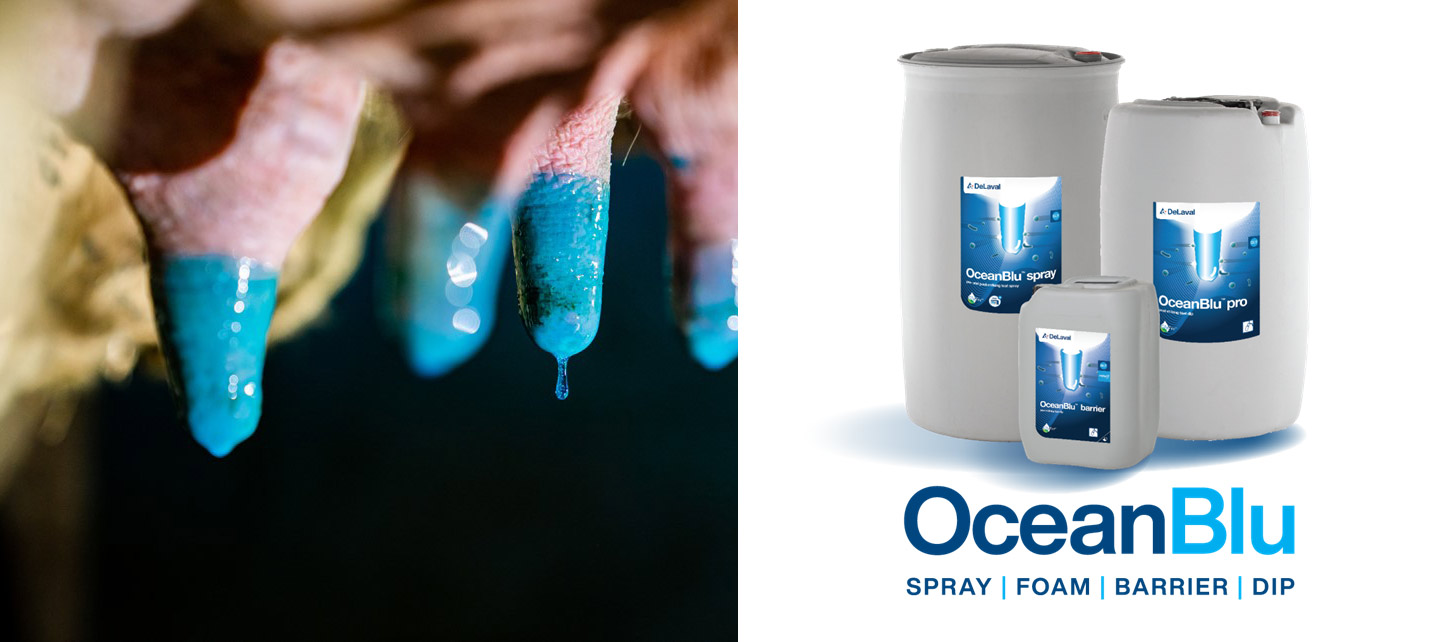 One of the key benefits of the OceanBlu™ products (spray, pro and barrier) are the skin conditioning properties with emollients like glycerin and sorbitol. The OceanBlu™ products also contains the patented GlyTec technology, making the three products efficacious with disinfection properties similar to well-known iodine products on the market. To suit different needs of dairy farmers and milking systems the OceanBlu™ family contains of three different products.
OceanBlu™ spray is a multi-purpose product that can be sprayed before and after milking, and can also be foamed pre-milking during the udder preparation routine. It's a fast-acting disinfectant with a bright blue colour, making it easy to see which cows have been sprayed.
OceanBlu™ pro is a visible teat dip, specifically designed for conventional milking making it visibly clear which cows have been dipped. The dark blue colour of OceanBlu™ pro can't be missed.
OceanBlu™ barrier is a vibrant blue teat dip that forms a high-quality flexible barrier around the teat, protecting the herd from environmental mastitis-causing pathogens between milking.   
OceanBlu will be launched in selected countries during 2023 and 2024.
Read press release DeLaval launches three innovative teat disinfectants on delaval.com