PRESS RELEASE FROM DELAVAL 27 March 2023    
DeLaval launches a new autonomous feeding robot
The range of DeLaval robots is now being expanded with an autonomous feed distribution robot – OptiWagon. Feeding is one of the biggest costs on a dairy farm and, in addition, the most labour-intensive activity after milking. DeLaval is now launching the new robot as a module in its complete automated feeding solution, DeLaval Optimat™. This total feeding solution provides everything from weighing, cutting and mixing to delivering the feed to the feed table.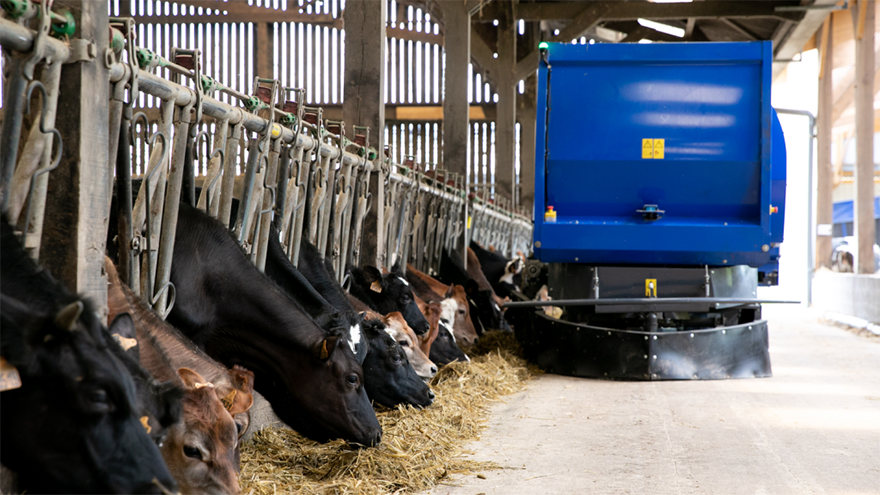 The OptiWagon is capable of providing various animal groups with a different feed mix up to twelve times per day. The recipes and the routes for the OptiWagon is set up and adjusted via the DeLaval DelPro farm management system. "The new feed distribution robot helps to optimise the conversion of the roughage dry matter into milk. Being able to do this efficiently is a great benefit on a dairy farm," says Ludo Bols, Feeding Systems Specialist at DeLaval. "By including the OptiWagon as part of the Optimat system you have an efficient and flexible feeding system that can help to save valuable time and limit energy costs on farms," Bols says. DeLaval stands by its concept of having separate products for mixing and cutting and distributing the feed. "This way we develop the product to do the job it is meant to do in the best possible way," says Bols.
The Optimat system is installed on over 600 farms, mainly in Europe. The system is available in two versions: DeLaval Optimat™ Standard and DeLaval Optimat™ Master. The standard version is a simple and effective system, suitable for dairy farms with 120 to 130 cows, and the master version is a fully automatic feeding solution, created for a capacity of up to 1,000 cows.
The OptiWagon is being launched in most European markets during the spring.
Read press release DeLaval launches a new autonomous feeding robot on corporate.delaval.com