PRESS RELEASE FROM DELAVAL
Reducing CO2 emissions through efficient transportation, reduced packaging and waste
Over the years our European distribution centre in Gallin, Germany, has seen some significant improvements to reduce emissions and save cost. The move to its current location offered some good opportunities including a change of culture with a higher focus on safety and taking care of one another to create a safer working environment.
Frank Schiebel, Senior Expert Global Transport in Global Demand & Supply, reports that this led to better routines, better cleanliness, and a more efficient workplace.
After a while, the staff was more motivated and came up with new ideas, questioned existing processes and started working on improvements themselves.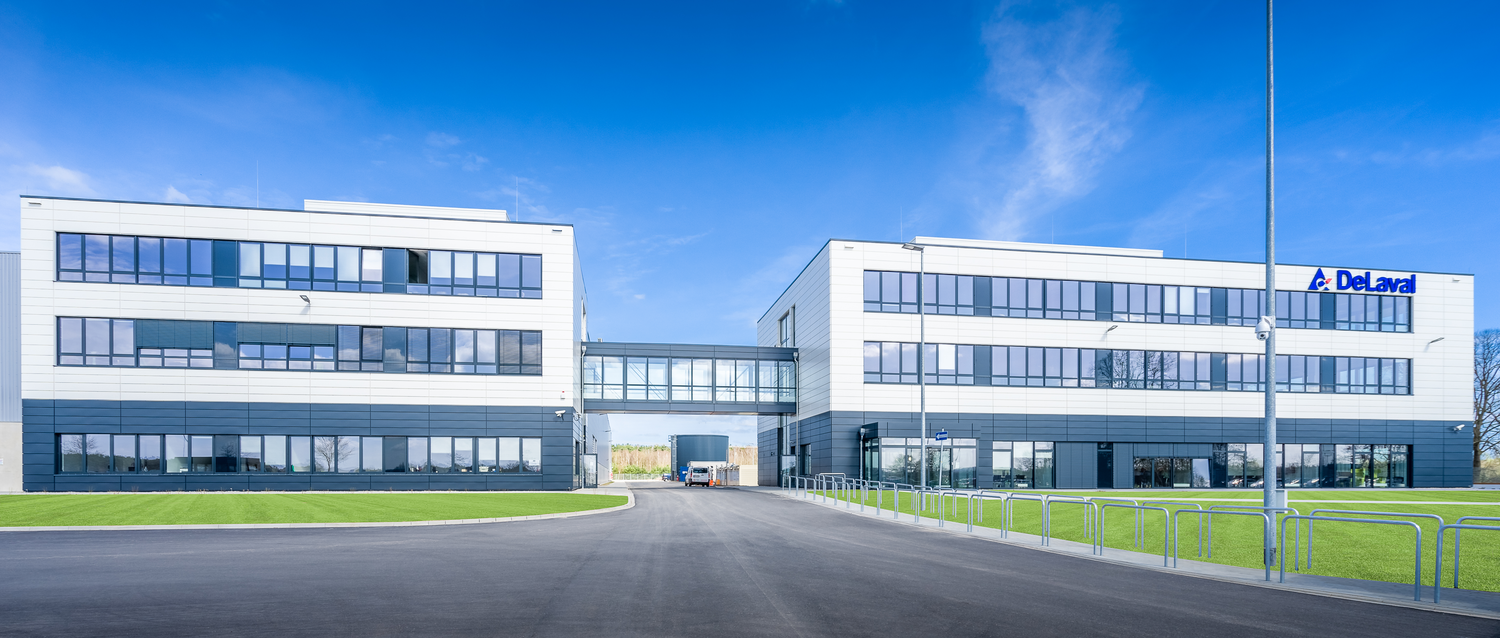 Transport
"Transparency, reporting and communication are vital to improve transportation. Today we have a great overview of all our global sea and air shipments including any availability constraints of sea containers, space on airplanes, delays or services changes. We compare lead times to identify improvement possibilities on shipping routes in correlation to savings and we continuously work to improve together with our global transport partners. In some cases, we have changed trailer type, making it possible to load more volume onto each trailer," Frank explains. "By improving collaboration between our customer desk and the planning and logistics team we have reduced the number of express shipments in EMEA by 28 %."
These small adjustments and big changes have presented significant reductions in hazardous waste, gas consumption and paper consumption
Education on hazardous waste
By training and educating the warehouse staff on how to handle dangerous substances as well as implementing different improvement activities with our suppliers to avoid quality defects, the hazardous waste has gone from 44 tonnes in 2019 to 16,5 tonnes in 2022. "This is a 62.5 % reduction," says Frank.
Lowering gas consumption
The distribution centre is heated with natural gas. This makes about five percent of the total energy consumption in DeLaval. The supplier is offsetting their carbon emissions, which is positive, but DeLaval does not report this as a reduction in our emissions. 
During the pandemic the gas consumption was reduced as most of the administration staff worked from home. This inspired the team to keep the consumption at a low level, and by lowering the temperature in the offices and warehouse they managed to reduce it even further. Since 2019 the consumption has been reduced by 47.7 %.
Better use of packaging
By consolidating the packaging to sending one larger package instead of two medium-sized ones, or by using multi-way packaging instead of single-use plastic bags, the use of cardboard boxes, plastic, paper and labels has been reduced. In addition, some obsolete paper labels and package inserts were removed.
New ways of working during Covid generated ideas to share documents with our partners differently, by applying digital solutions instead of paper printouts. All in all, the paper consumption has been reduced by 18% since 2021.
Road freight, short and sustainable transportation routes
The current European setup for transporting consumables was established many years ago. These go by trucks from Gallin to a so-called 'Split point', operated by a partner and strategically located to reach the majority of customers and avoid unnecessary distances. Depending on the volume to be shipped, the orders are consolidated in our business system to bundle volumes, reduce packaging material and to ship as many items as possible. 
Improvements in the future
The transport supplier working with DeLaval in Switzerland, has implemented a rail-based network, and is serving certain lanes by E-truck. The partner transporting the milking robot DeLaval VMS™ from the Tumba Factory, Sweden, to Gallin has received a certificate for 'CO2 savings 2022' by applying combined traffic (rail, ferry, road).
Most partners, carriers and airlines are aiming to reduce emissions. Airlines offer the option to use SAF (Sustainable Aviation Fuel), ocean carriers order vessels with methanol and LNG, Liquified Natural Gas, driven motors, hauliers go for H2 (hydrogen gas) or electrical trucks. "There are a lot of activities ongoing, which we will benefit from during the next years. The work to change has just started, we have an interesting journey in front of us," says Roger Edbrooke, Vice President Planning & Logistics. ​​​​​​​
"Over many years we have built long-term relationships with our transport suppliers, and this enables us to have good exchange of ideas with them. In the future we are planning to approach some of our partners to introduce DeLaval branded e-trucks for linehauls within Europe," Roger concludes. ​​​​​
​​​​​​​These activities are all linked to the sustainability goal to reduce emissions.
Read press release Reducing CO2 emissions through efficient transportation, reduced packaging and waste on delaval.com