DELAVAL PRESS RELEASE
The world's largest DeLaval VMS™ batch milking farm
Kolding, Denmark, 31 August 2023 – Lønholm Agro in Denmark presents its 24 DeLaval VMS™ V310 batch milking installation during VIP event. The flexible setup allows batch milking for a variety of farms utilizing the benefits of robotic milking.
The owner Klaus Jakobsen and his team started milking the 830 cows with the batch milking set up in May this year. "The cows adapted well to the system and all cows were milked from day one," says Jakobsen. He is planning to expand his business to milk 1,400 cows within the next coming years.
The concept of batch milking with VMS was introduced in 2021. "We have farms with VMS batch milking set up in several European countries as well as Asia and Americas, and we are seeing a steady increase in interest from our customers," says Jonas Hällman, Executive Vice President, EMEA (Europe, Middle East, Africa).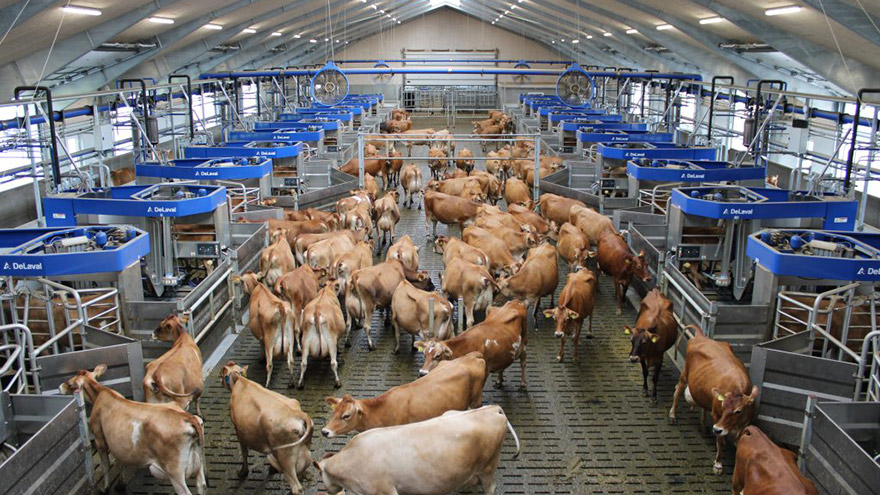 "The VMS batch setup is flexible and can easily be scaled up for a wide variety of farms, including very large ones. In addition, automatic milking requires little manual work, which can reduce labour dependencies and related costs," says Hällman.
The trend towards consolidation of farms worldwide continues, and the demand for efficient automatic milking solutions increases. With constant innovations, DeLaval supports farmers to grow their business and the batch milking setup brings a different perspective to the future of large-scale automatic milking.
"We focus on supporting our customers – the dairy farmers of the world – with their challenges and we commit to being a true performance partner to them," Hällman concludes.
Read press release The world's largest DeLaval VMS™ batch milking farm on delaval.com