Improved child nutrition and local agriculture development in Ecuador
Working in collaboration with Ecuador's Ministry of Education, Tetra Pak and Tetra Laval Food for Development (FfD) supported our customers by providing technical assistance to initiate the implementation of a school feeding programme. FfD activities included sharing best practices in food safety and environmental education utilised in school feeding programmes worldwide. The Ecuador school feeding programme is a model programme in the region and has provided children all over the country access to safe nutrition while enhancing the development of local agriculture.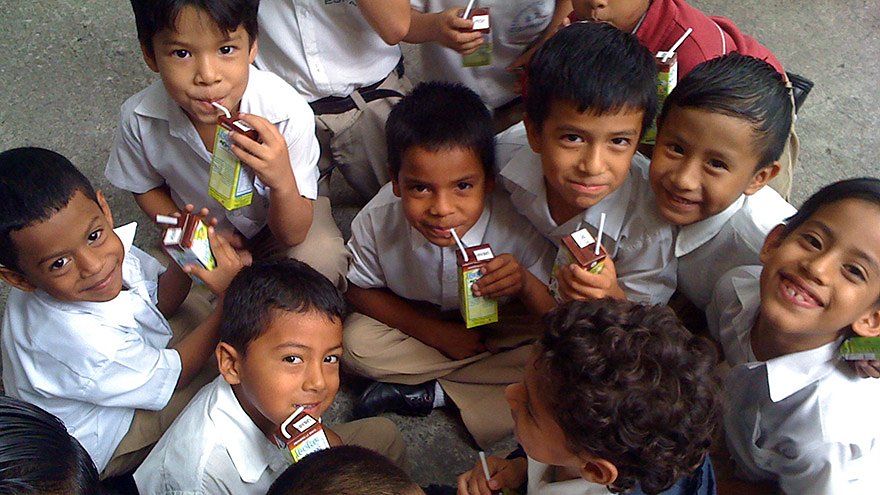 Local challenge

Hunger and malnutrition is a challenge facing Ecuador. One out of four children under the age of five suffers from chronic malnutrition country wide, but the rural rate is much higher at one out of two children derived from studies done in Cotopaxi, Pujili and Saquisili. In addition, four out of ten children in indigenous communities develop anaemia as the result of poor diet.[1]
23% of children under 5 years of age in Ecuador are stunted, which is higher than the 11.3% average for the America and the Caribbean region. In addition, wasting impacts 3.7% of children under 5 years of age, which is higher than the Latin America and Caribbean average of 1.3%.[2]
Ecuador has diverse terrain that includes rainforests and mountains, and only 20% of the country's roads are paved with many roads being made of gravel or dirt. During the rainy season heavy precipitation and mudslides often close or wash away roads.[3] This impacts the logistics associated with deliveries food to schools as appropriate vehicles are required to ensure food safety. A study by the government also showed that many parents of children attending urban-marginal schools could not fully support the local authorities with the resources needed for the preparation of powdered based cereal beverages. They also found a challenge due to a lack of potable water in schools.
Solution
As a solution, the government decided to initiate a pilot school feeding programme providing fortified UHT (Ultra High Temperature) milk in 2009 as a mean to provide guaranteed nutrition in a safe, convenient and functional manner without the need for refrigeration or preservatives.
The fortified UHT milk for the programme is packaged in Tetra Brik® Aseptic 200ml. Slim and available in four flavours (vanilla, strawberry, chocolate, and orange). Milk was provided to children as a breakfast snack 5 days a week along with a fortified cookie. The UHT milk, which has a long shelf life does not require cold chain for storage and transportation. As an innovation, cereal-based UHT beverages were also developed for the school feeding programme with the active involvement of Tetra Pak customer El Ordeño.
Results
Tetra Pak and Tetra Laval Food for Development have provided technical assistance support sharing best practices used worldwide in food safety, logistics, data collection, programme management, and community engagement since the first pilot started in Quito and Guayaquil to include urban marginal areas. The school feeding programme has provided positive impact demonstrating a decrease of the school dropout rate from 24.48% in 2005 to 6.28% in 2013,[4] and a decline in the primary school grade repetition rate of approximately 2.8% in 2008 to 0.47% in 2017.[5]
Information was collected in 2018 to ascertain the impact of the school feeding programme along the food value chain. The programme has also helped create jobs and provide a source of income for 28,580 producers including dairy farmers and fruit and pulp producers; 2,130 employees at 12 processors; and 1,350 employees for distributors in 12 provinces country-wide. It was calculated that for every US$1.00 invested in the school feeding programme in Ecuador, there was a return of US$2.71.[6]  
The programme has gone national and the coverage of children receiving milk and fortified beverages in Tetra Pak beverage cartons increased to 1.5 million children.  The school feeding programme now has legislation in place as a measure secure its long-term sustainability.