New school milk programme in Bangladesh aims to improve children's health and school attendance
The challenge – childhood malnutrition and lack of formal milk collection
According to figures from UNICEF, millions of children, adolescents and mothers in Bangladesh suffer from malnutrition. A major indicator of chronic undernutrition, stunting (low height-for-age) affects 28 per cent of children under the age of five. Wasting, which is the most immediate and life-threatening form of malnutrition, affects 10 per cent of the country's children. Malnourishment weakens children's immunity to disease and makes them more susceptible to infections. Malnourished children also often have difficulty concentrating and focussing, making it difficult for them to learn1.
In terms of milk consumption per capita, Bangladesh ranks among the lowest in the world. While the recommended minimum daily intake is of milk is 250 ml, current daily per capita milk availability in the country is only 175 ml2. The main reason milk availability falls short is the country's lack of self-sufficiency. This means that Bangladesh's dairy industry currently does not formally collect, process and package enough milk to fulfil demand nor nutritional requirements. As things stand today, Bangladesh must rely on the importation of milk powder to meet current demand. In some regions, poor access to milk is another significant and compounding factor for low milk intake.
Currently, only nine per cent of milk in Bangladesh reaches industrial processors3, where it can be processed and packaged into UHT milk or other dairy products that are not only safer for consumption, but also much more viable for storage and transportation compared to untreated loose milk. To move towards self-sufficiency and increase the production of milk while improving both safety and quality, Bangladesh is in the process of shifting towards a formal market for dairy production, processing and distribution. Nonetheless, the vast majority of domestically produced milk – some 91 per cent – is still marketed in a traditional or informal way4, i.e., unprocessed and distributed directly from farmers to consumers.
The initiative – a partnership for better nutrition and school attendance
In 2023, a new school milk programme was launched in Bangladesh to meet the objectives of positively contributing to the health of children while improving school attendance and local dairy development. The programme involves cooperation between Bangladesh's Ministry of Primary and Mass Education, three dairy processors – namely Pran Dairy, Brac Dairy and Akij Dairy and one Dairy organization. The goal is to reach 300 schools, supplying 60,000 primary-school-age children with safe and nutritious milk.
School milk contributes to improved enrolment and decreased drop-out rates among school children from socio-economically weaker populations. In situations where few children have sufficient access to nutritious food, school milk programmes aim to improve schooling for children by helping to fulfil their basic needs for adequate nutrition through providing them with milk – a nutritious, protein-rich food.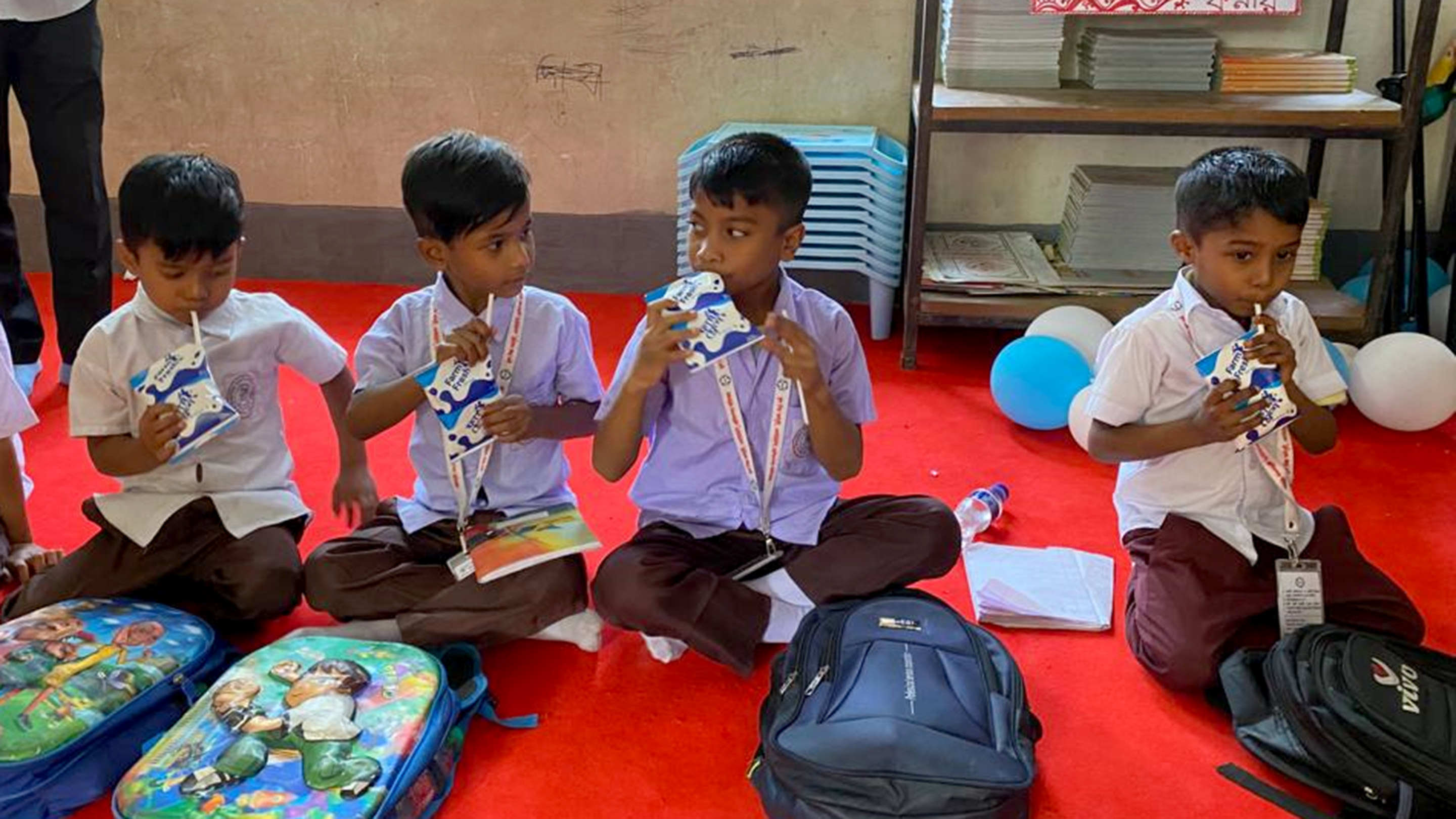 School children in Bangladesh, milk in Tetra Fino Aseptic carton packages
The value – making safe nutrition available for more children
Tetra Pak's customers participating in Bangladesh's school milk programme will be able to continue contributing to increased milk consumption in the future, helping to improve the country's daily per capita milk intake. Serving school milk that is processed and packaged using Tetra Pak's aseptic technology helps ensure food safety and quality, while providing children with much-needed nutrition. Aseptic technology enables UHT milk to be safely delivered to schools without the use of preservatives or refrigeration, including schools located in the remotest regions of Bangladesh. Those customers will also benefit from the technical assistance Tetra Pak provides for the implementation of the school milk programme by way of training from our specialists. Such training will help ensure efficiency, effectiveness and food safety. It will also help save on logistical costs while preventing food loss and waste during transportation and storage.
According to Mr. Muniruzzaman, Director of Akij Dairy, "The launch of the school milk program in Bangladesh, under funding from the Livestock and Dairy Development project, marks yet another step towards providing primary school children with much-needed nutrition. This initiative will not only benefit children but also boost the Dairy Industry." Adding that, "Through our collaboration with Tetra Pak, we are able to deliver safe, high-quality products to schools and meet the challenges of food safety in difficult-to-access areas."
Looking ahead
Working together with our customers, Tetra Pak South Asia and the Food for Development team will continue to collaborate with relevant stakeholders to scale up the school milk programme. The aim is for the programme to reach more schools and more children with the support of Bangladesh's Ministry of Primary and Mass Education.
To meet increased demand for milk, the country's Livestock and Dairy Development Project intends to set up 20 new Dairy Hubs in various locations. This represents an opportunity for the ongoing formalisation of the local dairy sector. The milk collected in these hubs will come from smallholder farmers, who will gain access to the formal market since the milk will be suitably processed and packaged for distribution to schools.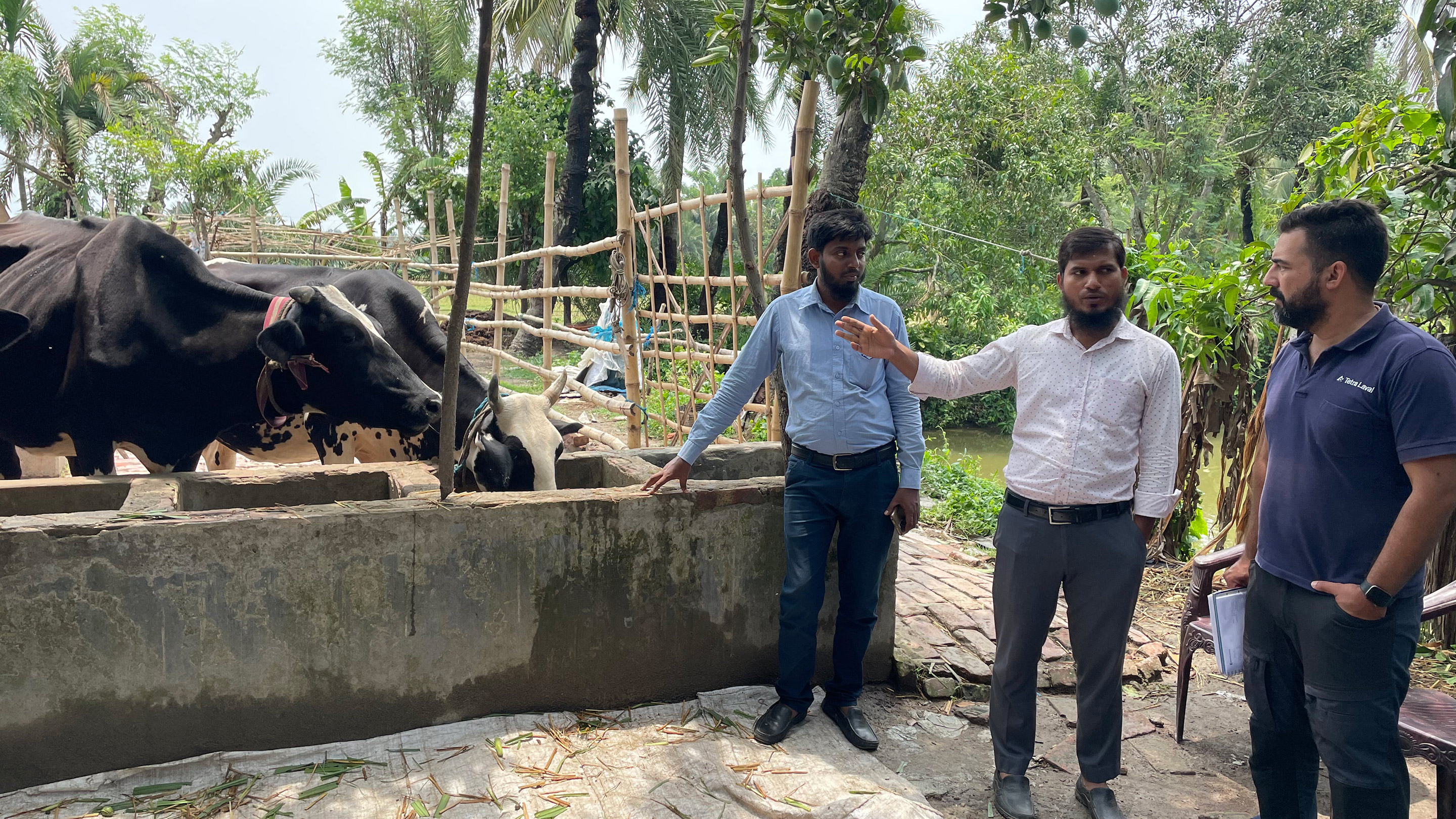 Dairy Hub in Bangladesh, farmers and cattle
As a company, we will keep providing added value to our customers and work in collaboration with partners, providing technical assistance to smallholder farmers. The smallholder farmers associated with the new Dairy Hubs will not only be able to secure access to the formal market, but also benefit from global best practices to improve the profitability of their farms. Support staff, called Extension Service Officers (ESOs), will become well-versed in the latest knowledge in dairy farming and apply what they learn to the operation of the new Dairy Hubs.
With the new school milk programme in Bangladesh, Tetra Pak and its customers further reinforce their commitment to the following UN Sustainable Development Goals: 2 – Zero Hunger, 12 – Responsible Consumption and Production, and 17 – Partnerships for the Goals. We provide ongoing technical assistance and share best practices used in school milk programmes worldwide. At the same time, Tetra Pak's role in the programme supports our commitment to making food safe and available, everywhere – and our promise to protect what's good by protecting food, people, and the planet.
Commenting on the initiative, Cassio Simões, Managing Director for South Asia Markets at Tetra Pak, says, "I applaud the Livestock and Dairy Development Department of the Government of Bangladesh for the launch of the school milk program in 2023. This will boost the consumption of milk among school children and provide them with much-needed nutrition. I also congratulate our customers for participating wholeheartedly in this noble mission that resonates with our core purpose where we commit to making food safe and available, everywhere. And we promise to protect what's good."
Rafael Fabrega, Vice President - Food for Development, adds, "Establishing a new school milk programme is a rewarding and great achievement of all the stakeholders involved in this project. We look forward to seeing the programme grow and expand to more schools to provide more children the opportunity to have access to nutrition and thereby improve their health and school performance".